Omnichannel Qontak is a communication application that can unify all messages from every popular communication channel in the world. This application is integrated with various communication channels such as WhatsApp, Facebook, Instagram, Line, Telegram, Email, Live Chat, and others. Various features can help you increase productivity, such as.
A. Main Menu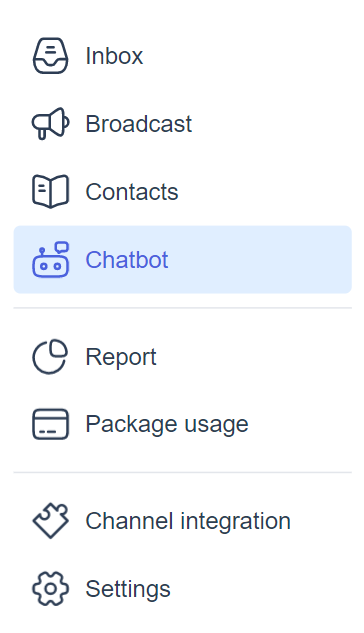 In the Inbox feature, you can access every integrated incoming message from various channels of your choice. Messages that enter the Qontak Omnichannel can be assigned to agents automatically.
The broadcast feature can be used to send messages in bulk. You can customize the message you want to send and the list of the intended contact.
In the Contacts feature, you can view all your saved contact lists, and you can also add new contacts or even modify individual contacts.
4. Chatbot
The Chatbot feature is a software or program that functions to simulate human conversations through text or voice interaction. You can use this feature on the Qontak Omnichannel by first contacting the Qontak support team at support-qontak@mekari.com to activate it.
The Package usage feature provides expense reports for your outbound messages displayed via a line graph view.
In the reports feature you can measure the productivity of each agent as well as business performance through a variety of Matrix which is presented on the dashboard in full.
This menu is useful for integrating with communication channels or other social media.
The Settings menu is useful for setting autoresponders, working hours, templates, and text on an Omnichannel account.
B. Top Menu

1. Help
Use the Help feature to access FAQs from the Qontak Omnichannel and to contact the Qontak support team.
2. Notification
The Notification feature can provide you with notifications about new chat rooms created, customer chat replies, assigned chats, and resolved chats.
3. Switch App
Use the Switch App feature to access other Mekari product accounts, such as Mekari Jurnal, Mekari Talenta, etc.
4. Profile
In the profile, you can view information about account names, emails, and roles (Admin/ SPV/ Agent), access the Settings menu, and the Sign out button.