Settings is a Qontak Omnichannel feature where users can control or make settings on the Omnichannel. You can manage User Management, Agent Management, Inbox, Contact Info, Score, Ticket, and Subscription in Settings.
Here is an overview of the Qontak Omnichannel Settings menu.
Open your Omnichannel Account.

Select the Settings menu, then you can access the settings in one of the Settings features, namely: User Management, Agent Management, Inbox, Contact Info, Score, Ticket, and Subscription.

The following is a description of each of the setting options in Settings:
1. User Management:

User Management is the management of User settings on the Qontak Omnichannel. Here, you can create a new User and change the detailed information (Name, Email, Address, Telephone Number, Division, Organization, and Role) on the User. In addition, you can also delete users.

2. Agents Management:

Agents Management is a feature of managing Division, Agent Allocation, Broadcast, Workload, and Contact masking on the Qontak Omnichannel.
- Division: It is a divisional arrangement for one or more Agents led by one Supervisor. Here you can name the Division, and designate its Supervisors, Agents, and Channels.
- Agent Allocation: This is a setting feature that can enable or disable an agent to take over chat and assign rooms to other agents. There are also features on/off auto agent allocation, and customs agent allocation.
- Broadcast: Here, you can enable and disable access to the agent to be able to broadcast.
- Workload: You can limit the space between agents and help them focus on the work at hand. You can set limits on how many agents can work at once per channel or all channels with Workload Settings.
- Contact masking: You can activate Contact masking, a privacy-supporting feature where you can get a temporary false phone number to call or send out an SMS.

3. Inbox:



Chat is a feature in the Settings menu to set Auto Responder, Office Hours, Templates, and Tags.
- Auto Responder: This is a template setting to answer chat automatically during and outside working hours. You can write the template in the following column. Make sure the feature is turned on with the ON or OFF button on this button.
- Office Hours: You can set the working time and time off per day in this menu and adjust the time zone to your location.
- Templates: This menu makes it easy for you to reply to chats by writing commands and issuing chat template replies according to the chat content from the customer. You can add new templates here. Write the command from the template and fill in the chat template.
- Tags: This is a hashtag that is used for ease of category in every incoming chat.
- Auto Resolve: This is a feature where you can set chat automatically resolve within a certain period of time.
4. Contact Info: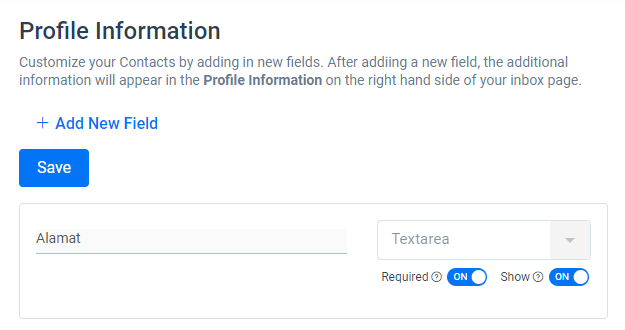 With the Contact Settings feature, you can add new fields to contacts. After adding a new field, the additional information will appear in Profile Information on the right side of your inbox page. You need to know that the addition of a contact field cannot be removed again.

5. Score:



Score in the Settings menu serves to set CSAT, CES, and NPS on your Qontak Omnichannel.
- CSAT: Customer Satisfaction Score Survey (CSAT) that is ideally sent when you want to see how happy a client is with an action your business is taking or a certain aspect of your product/service. Here, you can set the satisfaction scale, follow-up questions, and thank you messages. On the right side of the page, there is a preview of the title and content of the message. Click here to find out how to set up CSAT in Settings.
- CES: Customer Effort Score (CES) is a service metric that measures how much effort customers put into interacting with your business. Here, you can type questions, scale based on metrics, and use the follow-up questions feature. In addition, you can also customize the title and body of the message on the preview page.
- NPS: Net Promoter Score (NPS) is used as a proxy to measure overall customer satisfaction with the company's products or services and customer loyalty to the brand. Here, you can customize questions, answer scales, follow-up questions, and follow-up questions specifically for detractors, passives, and promoters. In addition, you can also set the title and body of the message on the preview page.

6. Ticket:



With Ticket, you can turn conversations into tickets, sending tickets from any conversation. In Ticket Settings, you can set whether the submit ticket feature is active or not, and change the Ticket Title, Button, and Webhook URL.

7. Subscription:



In Subscription, you can view purchase history information related to transactions for replenishing unique visitor balances and WhatsApp conversation balances.

That's an overview of the Settings menu on the Qontak Omnichannel.