In Qontak CRM, you can download GPS Live Location daily reports. To view it, make sure you have added the Live GPS Attendance Tracking report to the dashboard. Then, click the three lines, and select "Daily Check-in Report".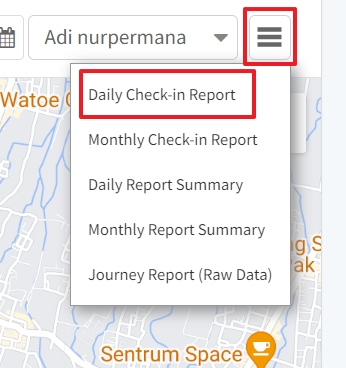 And when the data has been downloaded, you will see a sheet display like the following.



On the sheet Daily Check-in Report, shown in detail.
Report time filter
1. The names of each user
2. First Name and Last Name of each user
3. Detail team
4. Tags
5. Check-in time
6. Check-out time
7. Location at check-in
8. Location at check-out
9. Check-in or check-out status
10. Check-in Mock Location
11. Check-out Mock Location
12. Check-in Device
13. Check-out Device
14. Total User
You can track whether your user's check-in or check-out using fake locations or not by reading the Check-in Mock Location and Check-out Mock Location tables.